LinkedIn may fancy itself as being, ahem, all business. But the truth is that it's a social network and since "The Great Resignation", it's traffic has grown exponentially since it's early days as more and more folks are looking to find new employment or finally start that business they've been planning for years.
LinkedIn's algorithm has also changed quite a bit over the years, and it can be hard for business owners, CMOs, and founders to stay on top of the latest trends. But fear not! We have done the research and found out exactly how to make sure your content is seen by as many people as possible, including what sort of paid ads work more than others. Let's take a look at the stats so you can outsmart LinkedIn's algorithm in 2023.
The first thing to understand when trying to succeed on LinkedIn is that engagement rates are higher among users who post original content—that means not sharing other people's posts, but creating your own content from scratch. We found that posts with original images get 40% more engagement than those without them. Posts with videos get 50% more engagement than those without them, and posts with external links (like blog articles) get 80% more engagement than those without them (but be sure to do it the right way, as explained below or you will be penalized).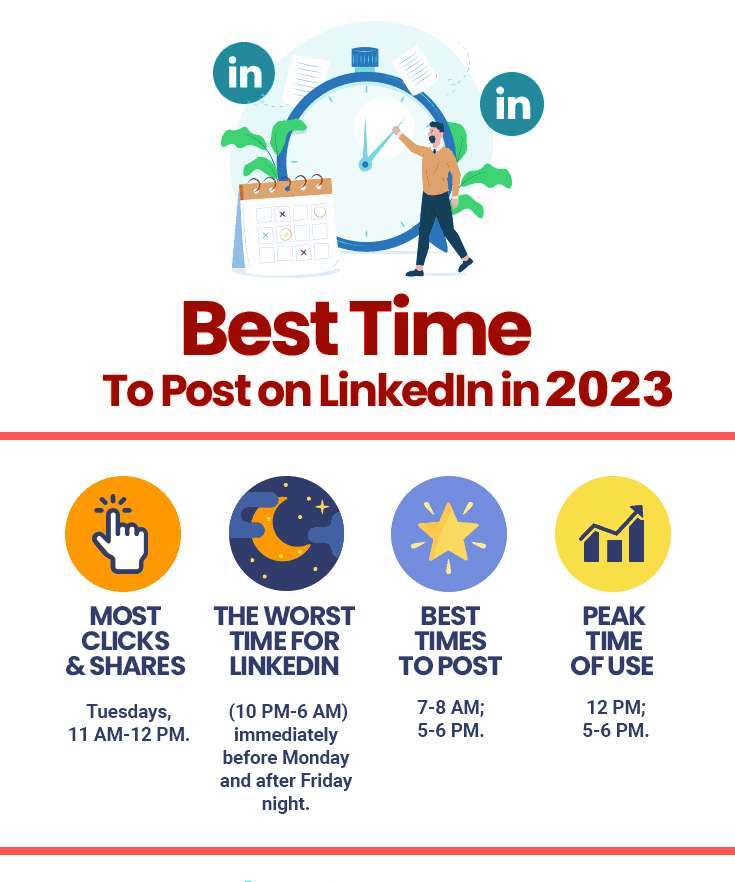 7 TIPS TO ACE THE LINKEDIN NEWS FEED ALGORITHM:
BE RELEVANT
Consider what your audience cares about. Also, posts with images get twice as many comments, shares and likes as posts with only text. LinkedIn videos get FIVE TIMES the engagement. Perhaps it's time you reached out to video production company that knows how to grab your audiences attention in seconds and hold them there for the duration of your message (we might know of just such a company! Wink, wink!)


SCHEDULE POSTS FOR THE RIGHT TIMES
Getting people to comment, share and like within the first hour is CRITICAL. Posting when everyone everyone is asleep is probably not the best time. Generally speaking 9am on both Tuesdays and Wednesdays are good times, but every audience is unique. Know when your audience is on the platform.


PROMOTE YOUR POSTS (BOTH ON AND OFF THE PLATFORM)
Share your posts in as many places as possible outside LinkedIn where you know your audience is hanging out (Facebook groups, reddit communities, Mastodon, Discord, etc.). Make certain to tag relevant companies and members, use keywords strategically and include relevant hashtags (but not too many or you will marked as spam!)


AVOID OUTBOUND LINKS
Like most social media platforms, LinkedIn doesn't like it when you make a post with a link that sends people away from the site. That's why it's better to put the link in the comments section! Still, sharing the content directly on the platform without a link at all will get the most eyeballs on it.


ENCOURAGE ENGAGEMENT
The best way to start a conversation is with a question.

Ask your audience to share their opinions or insights with you. Posing the right questions positions your brand as a thought leader.

It also provides an opportunity to learn more about your audience's interests. (Of course, if you want LinkedIn members to engage with you, be sure to return the dialogue!)


CRAFT ORIGINAL CONTENT ONLY
Sharing a post doesn't get nearly the eyes that original content does. Yes, it's much simpler to just make a single click to share something you thought was interesting, but it won't get seen by may people compared to something you or your marketing team has created themselves (i.e. see about video content above). If you're going to repurpose content, ensure that you make it your own by reframing it or adding your own commentary or conversation provoking question about it.


REPLICATE WHAT IS WORKING


If something performs well, replicate it. Use LinkedIn Analytics or Hootsuite Analytics to understand what posts perform best and why.

Maybe it's because you posted them all at a specific time? Or, maybe each post posed a question?

Whatever it is, find out and use these insights to refine your LinkedIn content strategy.




LinkedIn's algorithm may seem complicated and intimidating at first glance, but with the right knowledge and strategy it can be easy to succeed in getting your content shared by as many people as possible – even in 2023! Just remember that original content is key, visuals are important and display ads are great for cost-effective clicks per view. With this information in mind, you should have no trouble taking advantage of LinkedIn's algorithms changes this year! Good luck!